Basic information about the European Union Strategy for the Baltic Sea RegionThe EU Strategy for the Baltic Sea Region (EUSBSR) aims to reinforce cooperation in the region in order to face common challenges and opportunities by working together.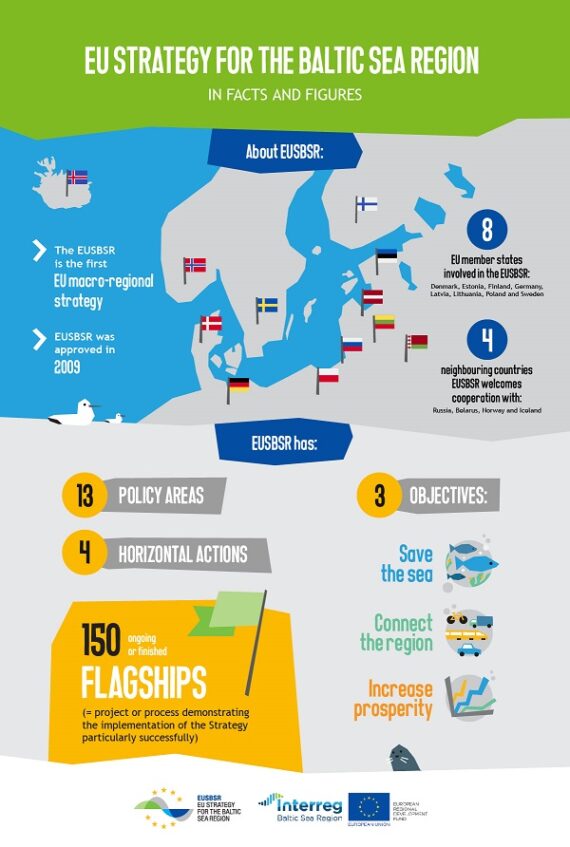 The Strategy was approved by the European Council in 2009 following a communication from the European Commission. It is the first macro-regional strategy in Europe. The EUSBSR aims to meet the challenges common to the countries in the Baltic Sea Region by working together, and to emphasize key opportunities in the region.
The Strategy has three main objectives which relate to a wide range of EU policies: Save the Sea, Connect the Region and Increase Prosperity. Each objective has sub-objectives.
1. Save the sea
– Clear water in the sea
– Rich and healthy wildlife
– Clean and safe shipping
– Better cooperation
2. Connect the region
– Good transport conditions
– Reliable energy markets
– Connecting people in the region
– Better cooperation in fighting cross-border crime
3. Increase prosperity
– Baltic Sea region as a frontrunner for deepening and fulfilling the single market
– EUSBSR contributing to the implementation of Europe 2020 Strategy
– Improved global competitiveness of the Baltic Sea region
– Climate change adaptation, risk prevention and management
Read more using the official website of the EUSBSR
Macro-regional Strategy EUSBSR